John B. Young
PLS, MO-2006016647, KS-1298, NE-640
John B Young is the President and Founder of J&J Land Surveyors.
John is licensed in Kansas, MO, & Nebraska and has surveyed throughout those areas since 1984.
John got his start over 35 yrs. ago at Schwab Eaton in Manhattan KS. John is a 2nd generation land surveyor. his dad was part owner of Shwab Eaton and brought John on at the age of 20.
John has been the director of surveying for several large engineering firms that have allowed him to develop the ability to manage large workloads, develop and maintain client relations and establish excellent leadership qualities.
John started J&J Survey initially with one partner that he later bought out and has grown the company to over 16 employees since.
Jacob Ellis
Jacob is an Assistant Construction Survey Director at J & J Survey, and has been working in the surveying industry since 2002. Beginning his career as a young man in rural north central Missouri allowed him define the importance of professional integrity and a passion for following his forefathers of the surveying world.  
He is extremely dedicated to his work and loves all aspects of surveying. 
Jacob earned his Drone sUAS Pilot License through the FFA in late 2019 and has performed several aerial flights capturing real time imagery and information pertaining to the project at hand.
Alan Graff
Alan is the Vice President of J & J Survey and has been working in the surveying industry since 2003.  He received his AAS in Survey and Engineering from San Antonio College and worked as a Field Engineer for 5 years with Koontz McCombs Construction.  Alan earned his Drone sUAS Pilot License and has used that to help streamline surveys.
Before entering survey management two years ago, Alan served as a Field Crew Chief for 10 years.
John D. Melton
John is the Director of Survey Operations for J & J Survey. John has been working in the surveying industry for over 26 years. With experience in nearly every aspect of surveying,
John joined J & J Survey in 2015 after having spent the majority of his career working for engineering firms.
He has extensive experience in commercial property surveys and municipality infrastructure improvements; from developing a preliminary design survey, to preparation of right-of-way plans, easement exhibits, legal descriptions, to the Final Platting process, John has done it all.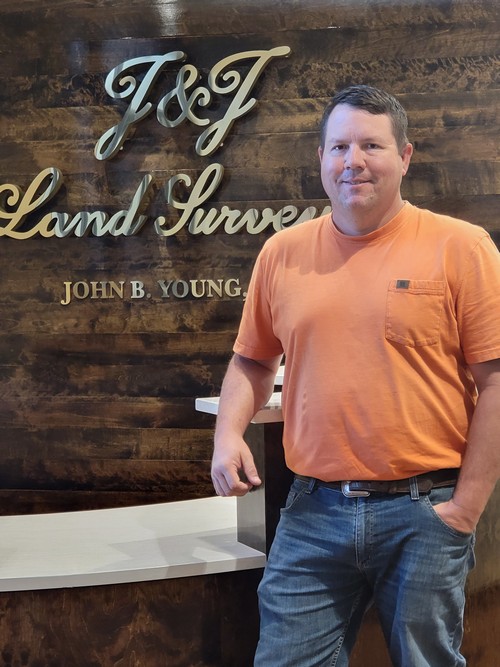 Wes Wallick, LS-2006000162
Wes has over 25 years of experience in the land surveying and route surveying & design industries. His past experience gives him strengths in land surveying, route surveying, bridge surveying (stream hydrology and hydraulics surveying), and topo surveying.
Wes has a diverse amount of experience in the surveying industry including field and office experience but believes there is always more to learn.
He enjoys his current role as a Survey Crew Chief and enjoys learning from our company's other diversely experienced Survey Crew Chiefs and managers.
Kent Paine
Kent currently serves a Survey Crew Chief for J & J Survey, but started his survey career in 1997 with Bartlett and West Engineering in Topeka, KS as a Rodman.  From there, he has worked for other survey firms working on all aspects of the surveying field, before making his way to J & J. 
Notable jobs include Walmart, Home Depot, large retirement communities, and several large logistics projects. 
Kent states that his career goal has always been to try his best to make clients happy and to produce quality work in a speedy fashion.
Karl Pierson
Karl learned how to survey while serving in the military in the 1990s.  He moved from his home state of Alabama to Kansas City in 1996 to begin his professional career in surveying.
Karl has worked at J & J Survey for seven years and now works as a Survey Crew Chief. 
Karl has a friendly demeanor and is a very thorough surveyor who aims to satisfy all customers, whether the project is big or small.
Janie Helm, Office Admin
Janie came to J & J Survey in May 2021 after a 15 year career managing programs in the nonprofit, social service sector.
While she is new to the surveying world, she is well versed in all areas of office administration including accounting, organization, scheduling, and problem solving. 
She is also the voice at the other end of the phone when you call J & J and looks forward to speaking with you!
John Melissinas
John has been in the drafting and Engineering field for 14 years. 
He has worked in several fields, including Architectural, Civil, Electrical, Fire Protection and coding, Mechanical, Structural, Surveying, and a few others. 
John joined J & J Survey as an AutoCAD technician and is a great asset to the company.
Cii Coleman
Cii is the HR manager for J&J Survey, she has worked there for 6 yrs. her background is in Real Estate.
She was a realtor for over 20 yrs. has owned and operated her own real estate company and had a very successful radio show for several years called "Ask A Realtor."
She speaks and has taught French. She has a natural talent for interior and exterior design.
Dayton Nissen
Dayton was a former laborer for Kissick Const. for 2 yrs. He is now a Crew Chief at J&J Land Survey..
Go Dayton!!
Phillip Menzo
Phillip has been a surveyor for 4 years.  He has also been an oil field surveyor.  Phillip loves surveying, is a team player, and loves hard work.
Sergio Lopez
Loves outdoors, enjoys side work landscaping.  Family man.  4 years on basement foundation, 10 years in automobile repair.  J&J Survey is my stepping stone to become a land surveyor.
J & J Survey, LLC
8680A N. Green Hills Rd
Kansas City, MO 64154
Call (816) 741-1017
PROFESSIONAL SURVEYOR'S - KANSAS CITY
J & J Survey - Kansas City - Copyright © 2023